Lenaduwa Lokuge Rangana Navodini Ariyadasa and presently attached to the University of Visual and Performing Arts, Colombo as a Lecturer in Classical Bharatha Natyam. I below give a detailed description of myself and how I progressed in my career as a Fine Arts Instructress for your information and kind consideration

My mother, Kalasuri and Kala Bhushana Mrs Padmini Manel Dahanayake Ariyadasa is the first Sri Lankan woman who brought great fame to Sri Lanka as a renowned dancer of Bharatha Natyam. As a child, I was inspired by her immensely and my first contribution to the field of Fine Arts was made by me at the age of 4 1/2 years by inventing and presenting a dancing performance to the song "Anothaththa Vila Neluma Nelala". My grandmother was also a well known singer in that era and my grandfather was a Tower Hall actor. Dr. W. Dahanayaka, a former Prime Minister of Sri Lanka was my great-grandfather. As such I obviously descend from a generation of artists.

I'm a past pupil of Musaeus College, Colombo and as a school girl I studied Up-country, Low-country and Sabaragamu dancing forms with much dedication. I further studied Kathak dancing under the Renowned expert dancer, Mrs. Srimathi Rasadari. After her demise I studied same form of dancing under Mr. Jayasena Kottegoda who is the Vice-Chancellor of the University where I teach presently. Having studied under such great scholars I went to India and joined the "Kalakshetra" Institute of Fine Arts in Chennai where I studied Classical Bharatha Natyam, Kathakali dancing tradition, Karnatic Music, playing the musical instrument Thambura for five years and graduated. During my stay there I acquired a fair knowledge in Tamil and Sanskrit languages as well. As an undergraduate I had the rare privilege of meeting greatest personalities and artists like Bismillah Khan, Ravi Shankar, Latha Mangeshkar and Yesudasan. I have performed before renowned guru Sathya Saibaba and I have met His Excellency R. Venkataraman, then President of India.

I humbly recollect the first occasion where I performed on the same stage with a troupe of famous veteran artists of Sri Lanka, when ITN Channel was launched in 1978. At said celebration I presented a performance of classical Bharatha Natyam along with my mother. I reminiscence how I presented a dancing performance called "Thillana" at a ceremony held in order to celebrate retirement of Mr. Thevis Guruge, then Chairman of Independent Television Net-work. Mrs. Srimathi Liyanage , then Director of Children's programmes at the Rupavahini Corporation, having identified my talents introduced me to Sri Lankan audience through her "Lama Huruwa" programme .

From then onwards I had the privilege to present my dancing skills at T.V. programmes such as "Nandana Vindana", "Sarangi", "Sava Sangeetha" and "Manohari".
My career as a Teledrama actress began when I played the role of the swan in the teledrama "Swan and Prince" directed by Mr. Titus Thotawatta based on a Jataka Story. Next I took part in some English teledramas directed by Mr. Ananda Sirisene. Further I played the role of a dancer named "Nirmala" in the stage play called "Flying Horse" - (Piyambana Ashwaya) which was awarded the second place at the State Drama Festival held in 1984.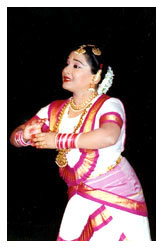 My career as an actress of Foreign films began in 1985 when I joined the Urdu Film "Hamse Natakarana" at the invitation of Mrs Anoja Weerasinghe who produced said film, a co-product of a number of countries like Sri Lanka. India Pakistan and Bangladesh. In said film I was chosen to play the role of sister of the main actor of the film. Subsequently I was invited to act in a number of foreign films, all shot in Pakistan which I consider as a unique achievement.

The greatest landmark of my dancing career, the inaugural public performance ceremony of mine, "Arangetram" was held on the 24th December 1984 under the patronage of then Hon. Minister of State Dr. Ananda de Tissa de Alwis who is also a relation of mine. An individual dancing show was held by me in 1985 in aid of State Defence Fund and the money was handed over personally by me to Hon. Minister Lalith Athulath Muthali then Minister of Defence . I proudly mention that I was the only dancer up to now in my field to dance in aid of the defence fund at a very tender age for a duration of three hours.

I have made my contribution in my capacity as a dancer at almost every State Festival Ceremony held in the country at district level. Apart from that I've entertained audiences by dancing at Presidential Award Ceremonies, Vijaya Rupavahini Award Ceremony and Sarasavi Award Ceremony. I have often been invited to present my dancing performances at various functions held at Foreign Embassies. I especially wish to mention the Embassies of Japanese, Russian and High Commissions of India and Great-Britain where I entertained gatherings of VIPs with my dancing performances.

At an invitation of Mr. Tilak Atapattu I contributed to the song "Matha Matha" of the Local film "Sathara Maha Nidanaya" by presenting dancing visuals to accompany the song.

After coming to Sri Lanka with the post graduate diploma awarded by "Kalakshetra" I worked for a period of five years at National Youth Council as a Fine Arts Instructress. Subsequently I was engaged at the University, Tower Hall Foundation , Mahaweli Centre and the Cultural Troupe of the Armed Forces as an instructress.

In the year 2000, I started my own academy of dancing which was registered at the Ministry of Cultural Affairs under the name "Sri Padma Ranga". Presently about 200 students undergo training under me and about 52 students who excelled in dancing have held their inaugural dancing performances (Arangethram).

I married Shalith Udaya Kumara, an accountant by profession in 1995 and I am blessed with a baby daughter, Thorashee Thiloththama who is presently attending Musaeus College, Colombo-07.

My father L.L. Ariyadasa is a graduate in Agriculture and my brother Chandreen Jayawanth Ariyadasa presently domiciled in Australia is an Executive Chef by Profession.

I performed as a judge in "Rajitha Rashmi"and worlds first reality programme for tri forces in sriLanka conducted by the defence ministry and National Channel of Rupavahini Corporation. Some private TV channels also have obtained my services as a judge for dancing competitions organized by them. I have held a number of workshops on Classical Bharltha Natyam in Australia and almost every year I visit Australia and have conducted courses in Bharatha Natyam at various aesthetic academies in Melbourne. In year 2009 I was given an award by the Sri Lankan Sinhalese Association (named –Scats) in Melbourne for my contribution to the dancing field. My mission is to make my fullest contribution as a professional to the propagation of Classical Bharata Natyam in Sri Lanka.